Harvey Weinstein sentenced to 23 years in prison for rape and sex assault in case that sparked 'MeToo' movement
PUBLISHED WED, MAR 11 202011:03 AM EDT UPDATED 7 MIN AGO Dan Mangan@_DANMANGAN KEY POINTS | Courtesy of CNBC
Film producer Harvey Weinstein was sentenced to 23 years in prison for a sex assault case that ignited the #MeToo movement in the United States.
Weinstein was convicted on Feb. 24 after a trial in a Manhattan court of rape and committing a criminal sexual act more than two years after explosive news articles about his alleged serial sexual abuse of women.
News stories about the movie producer in 2017 led to revelations of sexual misconduct by a number of other high-profile men in the so-called #MeToo movement.
"Sopranos" actress Annabella Sciorra had testified at the trial that she was raped by Weinstein in her apartment around 26 years ago.
Harvey Weinstein enters a Manhattan court house as a jury continues with deliberations in his trial on February 24, 2020 in New York City. prison.Spencer Platt | Getty Images
Film producer Harvey Weinstein was sentenced Wednesday to 23 years in prison for a rape and sex assault case that ignited the #MeToo movement in the United States.
That sentence in Manhttan Supreme Court was less than the maximum 29 years requested by prosecutors, but could amount to an effective life sentence behind bars for the 67-year-old Weinstein, who has been in apparently frail health.
And the sentence also was far higher than the minimum of five years in prison, which his lawyers requested from Judge James Burke.
Watching in the courtroom were all of the women who had testified at trial against the once-feared mogul, who was convicted Feb. 24 of rape and committing a criminal sexual act more than two years after explosive news articles about his alleged serial sexual abuse of women.
"He has been using and abusing people his whole life," said prosecutor Joan Illuzzi after Weinstein was rolled into the courtroom in a wheelchair for the hearing, which ended with his accusers being applauded as they exited the room.
The producer of films including "Pulp Fiction," "Shakespeare in Love," and "Gangs of New York" was found not guilty of the most serious charges: two counts of predatory sexual assault for which he could have been sentenced to life in prison. He also was acquitted of first-degree rape.
"I really feel remorse for this situation, I feel it deeply in my heart," Weinstein told Burke on Wednesday. "I'm trying to be a better person."
Weinstein gave long, rambling statement to Burke, saying his wives "knew nothing" about his extramarital affairs, complaining that he had not seen his children since the allegations against him were made in late 2017, and boasting of the charity fundraising he did on the heels of the 9/11 terror attacks and Superstorm Sandy.
"I had wonderful times with these people," he said, referring to the two women whose allegations led to his conviction.
"I think men are confused about these issues," Weinstein said. "I'm worried about this country, lots of men like myself are the latest examples."
Jurors found him guilty of committing a first-degree criminal sexual act by forcibly performing oral sex on production assistant Mimi Haleyi in 2006.Jan Ransom@Jan_Ransom
#MiriamHaley addressed the court at #HarveyWeinstein's sentencing:
"He had crushed a part of my spirit. If he was not convicted of rape & sexual assault by this jury it would have happened again & again. I'm relieved there are women who are safer because he is not out there."48Twitter Ads info and privacySee Jan Ransom's other TweetsJames Queally✔@JamesQueallyLAT · Replying to @JamesQueallyLAT
She also referenced the isolation she felt in thinking Weinstein had only, solely, targeted her for sexual abuse. "At the time all this happened, I thought I was alone in this. I had no idea there were others."James Queally✔@JamesQueallyLAT
Jessica Mann referenced the day she left court screaming at trial. "The day my uncontrollable screams were heard from the witness room, was the day my whole voice came back into my power," she said, referring to them as the screams she didn't make the day of the assault.17Twitter Ads info and privacySee James Queally's other Tweets
He also had been convicted of third-degree rape for attacking aspiring actress Jessica Mann in a Manhattan hotel room in 2013.
Weinstein was sentenced to 20 years for the attack on Haleyi and another three years in prison, to be served consecutively, for the rape of Mann. If he survives his prison sentence, he will have to serve five years of probation after his release.
Defense lawyers plan to appeal Weinstein's conviction.
One of Weinstein's lawyers, Donna Rotunno, called the sentence imposed on him "obscene," "obnoxious" and "cowardly."
Another lawyer for the producer, Arthur Aidala, said it was a "sad day for the New York City criminal justice systrem," but added, "I have tremendous confidence in the appeals court."
sentance today dictates how judge felt and his attitude from day one
Both Haleyi and Mann gave statements in court before Weinstein was sentenced.
Mann accused Weinstein of using "his power over the powerless" and called her crime against her "a recurring nightmare."
"Sopranos" actress Annabella Sciorra had testified at the trial that she was raped by Weinstein in her apartment around 26 years ago.Shayna Jacobs✔@shaynajacobs
#HarveyWeinstein accusers leaving courtroom to cheers. ⁦@washingtonpost⁩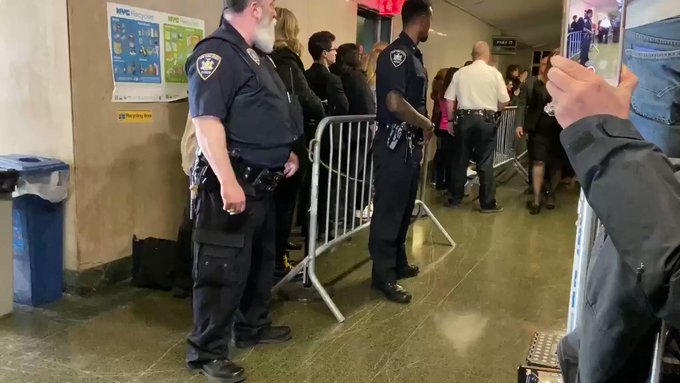 39Twitter Ads info and privacy21 people are talking about this